10 FREE Things To Do In Singapore 2020 So You Won't Have To Complain "Expensive This Expensive That" Anymore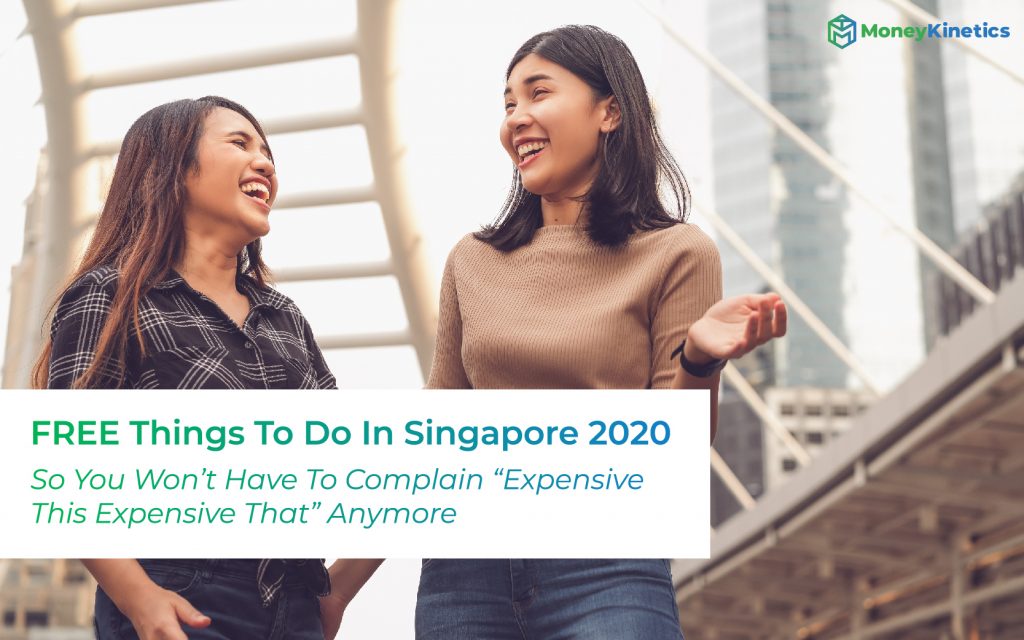 Sure, we are now under partial lockdown till 5th May cause of Singapore's circuit breaker rules.
However, what happens after the 5th? We pray to the heavens above that the circuit breaker does not get prolonged.

Want to do something over the weekends but don't wish to hurt your wallet? Here's how!
"What can we do this weekend?"
"Don't know leh, Singapore so boring. Everything's so expensive."
You might have heard of such a conversation exchange, or been apart of it before. If it's the later, you'll probably find yourself ending up spending your time at home.
Unbeknownst to us, Singapore is a melting pot of heart-throbbing experiences, offering enchanting vistas and plenty of opportunities to have fun and learn new things.
But sometimes, that motivation to get out of the house is simply not there, or just needs a little bit of pushing.
Well, here are 10 FREE things to do in Singapore that will make for an amazing afternoon off. You can connect with your friends and family, all the while not spending a single dollar.
Did somebody say FREE? Good things must share!
1. Experience Life In Singapore's Last Surviving Kampong
(Source: TODAYonline)
Take a step back in time and experience what life was between the 50s-70s in Singapore's last remaining Kampong: Lorong Buangkok. 
Houses with zinc roofs, missing gates, barricades and dirt paths are all just some of the sights you can expect to see once you set foot into Lorong Buangkok.
As an important cultural and historic symbol of Singapore, you'll get to immerse yourself amongst the peaceful and quiet village and see how the residents live their day-to-day life.
Address: Kampong Lorong Buangkok, 7 Lor Buangkok, Singapore 547557
2. Test Your Limits With A Southern Ridges Hike
Yes, you would rather stay in the comfort of your home than to brave the terrifying thing that is Singapore's heat. 

That said, it pays to go outside once in a while and burn off those excess calories.
How does a 10km walk sound?
If you love nature, this trail that waxes and wanes between the forested Mount Faber to the Labrador Nature Reserve offers terrific views. There's a perfect contrast between the lush forest teeming with wildlife and the urban skyline in the distance.
Mount Faber also helps you learn more about Singapore's history, thanks to the copper-tooled murals below the summit.
Rest assured. If you're not up for the 10km hike, there are other hikes ranging from 0.35km all the way to 4.5km.
It's time to stop putting off your fitness regime and get to work!
Address:  Alexandra Road | Mount Faber Park; Telok Blangah Hill Park; or Kent Ridge Park, Singapore 099203
3. Go Nature-Watching At MacRitchie Reservoir
(Source: PUB)
If you're still unfazed by the Southern Ridges hike, why not try going for another hike at MacRitchie Reservoir!
Before you go all 'siao!' on us, MacRitchie Reservoir is home to 5 different hiking trails, all of which are incredibly scenic.
Some are easy, some are hard, some are short and some are long, but you'll get to admire the amazing reservoir guarded by thick bush and the tranquility that comes with it.
Best of all, MacRitchie Reservoir is home to various wildlife, like the eccentric long-tailed macaque monkeys, unwinking monitor lizards or playful squirrels.
Address: MacRitchie Reservoir Park, Singapore 298717
4. Admire The Buddha Tooth Relic Temple
If you're a history buff, this temple is the perfect place to learn more about the Tang dynasty and its cultural importance.
The temple's architecture is fascinatingly elegant, but this is also a place of worship, so you'll have a first-hand experience of the chants and Buddhist monk processions.
This place is a must-see because it's said to be home to one of Siddharta Gautama's teeth, bringing you closer to the founder of Buddhism.
The Temple, located across the street from Maxwell Market, also serves free vegetarian meals, though you can always make a donation.
To complete your visit, you can even snap an OOTD shot right outside the temple!
Address: 288 South Bridge Rd, Singapore 058840
5. Watch A Free Movie
(Source: MovieMob Facebook)
Free things must share!
It's time to get creative with your movie dates!
Instead of catching a movie in the cinema, why not try going on a no-frills movie date under the stars?
Courtesy of Movie Mob, you can enjoy a movie in the biggest cinema of all: the great outdoors. The community specialises in organizing picnics and drive-in movies, so you're in great hands.
There's no fixed place where you can enjoy the movies, so it's wiser to follow Movie Mob's Facebook page for updates. Depending on the venue for that particular month, you may even get lucky with a drive through movie screening. Talk about being romantic.
Free popcorn and drinks are also sometimes available, along with floor mats and comfy oversized cushions. So be sure to turn up early to secure your spot.
Address: Varies 
6. Explore Punggol Waterway Park
(Source: Steel Wool Flickr)
Punggol's quaint and enchanting Waterway Park combines the rich green of tall, adumbral trees, with the blue of waters and brown wooden bridges.
The wide paths offer well-kept bicycle and skate tracks, so you can enjoy nature at high speed. You can either bring your own or rent them from the park at a modest price for the sense of freedom you'll experience.
Waterway Park is a great place for birdwatchers, considering that the trees are home to rose-ringed parakeets, while collared kingfishers roam around the water. There's even a watery playground for children to enjoy.
Address: Sentul Cres, Singapore 821313
7. Be A kidsREAD Volunteer 
It's always nice to give back to society once in a while.
If you love being around children, you might wish to consider applying as a kidsREAD volunteer with the National Library Board (NLB).
As a kidsREAD volunteer, you'll be going through an hour of reading session each week with underprivileged children from a selected club. That said, you'll have to commit as a volunteer for at least 6 months in order for you to form a bond with the child and make a lasting impact.
Address: Depends on your assigned club
8. Visit Chinatown
If you want to immerse yourself in the Chinese culture or buy some great souvenirs, Chinatown is the place to be.
Featuring crowded alleys that host a variety of shops and a street market, this neighbourhood is renowned for its eateries, bars and restaurants.
Chinatown also includes ornate Buddhist, Chinese and Hindu worship places that are close to each other. These temples, alongside the low-rise buildings of Chinatown, make for a delightful contrast with the rest of Singapore.
9. Volunteer with an Animal League
Love animals and are committed to improving their lives? You can try volunteering at an animal shelter!
Leagues such as SPCA or Animal Lovers are always in need of new volunteers to help them with abandoned or neglected pets.
Volunteering is always an option to spend your free time. There are many positions available for you to help with. From more hands on and labour intensive positions such as cleaning and grooming to advocacy positions like communications, public relations and even photography.
Who knows, after volunteering, you'll be tempted into adopting a little fury friend back home!
10. Get or Give at the Really, Really Free Market
(Source: SRRFM Facebook)
Enjoy the spirit of an alternative gift economy and the benefits of neo-bartering which has really caught wings in Singapore. If you're looking to do something to do that's by definition free, the Really Really Free Market is the epitome of that.
You can share your things or your skills with other people in exchange for theirs, thus helping build a true community. However, you must register through the SRRFM's Facebook page to make sure they bring enough mats. And if you're inspired by this event, you can always volunteer with them too.
With the above list of things to do in Singapore, hopefully you'll find something new to do or something that interests you. No more complaining that Singapore is boring anymore!